Last year I made some
Chocolate Stout cupcakes with cream cheese icing
.

Whilst they were tasty, I couldn't get any-one to eat them. I ate most of them myself and gave the rest to my workmates with sons. I thought I'd try making the recipe again but this time I made a cake rather than cupcakes. Once the cake was baked and cooled, I put it into the deep freeze and pulled it out last week for a friend's birthday morning tea.
Whilst I liked the flavour of the cupcakes, I didn't like the texture very much. I hunted down another recipe (they're all very similar by the way) and settled on this one on

Smitten Kitchen

but I changed the recipe substantially.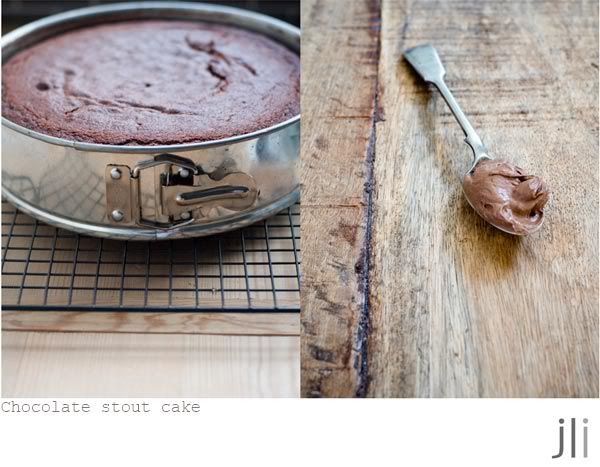 I ditched the melt and mix method instead creaming the butter and sugar before combining the eggs. I reduced the sugar substantially and added some yoghurt with the sour cream to lighten the mixture. The cake came out sky high and very moist.
Of course when the time came to ice the cake, I had to use

my favourite cream cheese icing recipe

, using a bit of sour cream to tie in all the flavours.
I'm not really a chocolate cake fan, so I didn't have a slice but I tasted the crumbs and scraped the bowl and can tell you its a pretty tasty cake.

What did my work colleagues think?

I think to say it went down well was a bit of an understatement. As the word went around that I'd baked a chocolate cake, people came out out of the woodwork. The recipe was requested and I was told it was the best chocolate cake they'd ever tasted. There's another farewell morning tea coming up soon, and I've made a small version cake using this recipe but this time I'm going to ice it using some leftover ganache I found in the freezer. I'll let you know what the test audience thinks.

I hope you all had great weekends. I did a bit of shopping, lots of baking, met a friend for sushi and watched the Australia vs New Zealand Rugby World Cup semi-final. Congratulations to New Zealand who were certainly the better team on the day.

See you all Wednesday and don't forget to send me your favourite Christmas baking recipes,

Jillian